When reserving a day booking with HotelsByDay, here are a few things you should know before you go.
Q. Should I confirm my day booking with the hotel?
A. No, you should not. It sounds weird, but the fact is that a day booking is a new service provided by hotels. Our bookings come manually and are entered ONLY on the day of your check in. All you have to do is to show up with a copy of your reservation, as well as a valid ID & CC (if you plan on paying with CC). Only then will you be registered by the hotel.
Q. Can I pay by cash only?
A. Yes, you can. And if you don't want any paper trail of the transaction, then make sure to tell the front desk staff that you wish to pay for the incidental deposit in cash, not a CC charge.
Q. At what time can you check in?
A. Day bookings have a set number of hours during the day. You can check in anytime all the way up to one & a half hour (90 minutes) prior to check out. If you show up after the cut-off time, the hotel reserves the right to refuse you. Please note however that you must strictly respect the check out time, or the hotel will charge you extra if you do not check out on time.
Q. Are the time slots fixed or is there a way to book by the hour?
A. The daytime hours slots are fixed. There is no way to book 'by the hour'. Day bookings are a minimum of 4 hours everywhere on the website. 
Q. How many people can you fit in a day room?
A. Two adults are the maximum. Most hotels will consider a 10-year-old child as a full paying guest.  Please also note that you must be over 21 to book & check-in without an accompanying adult.
Q. What type of room am I assigned for my day booking?
A. Generally, dayrooms are 'run of the house' meaning that whatever room is vacant will be assigned to you, however, the hotel reserves the right to assign specific rooms on the website such as a 'King Room' or 'Double Bed'. Specific room assignments can also be made at check-in. Make sure to ask the front desk for a room type that you prefer and they will assign it to you if they have the availability.
Q. What if I want to check in earlier/stay later, can the hotel deny me a room?
A. Yes, they can. Essentially, a day room is guaranteed for the hours we list on the confirmation page, which has been extensively negotiated on your behalf. Any deviation from the predetermined set up is subject to hotel discretion.
Q. Can I extend my day booking to an overnight stay?
A. You must request it at the front desk, upon your check-in. If the hotel has availability for a night stay, then you will simply be asked to pay for a night supplement and can stay until the standard check-out on the next day.
Q. Will the hotel keep my room if I arrive late?
A. Yes. The hotel is under contract to keep your room all the way to at least 1 hour prior to your day room check out time.
Q. Do rates fluctuate?
A. Yes, rates changes, based on the hotel's availability but not every day. Hotels will set a rate on the website that can fluctuate from time to time based on timing.
Q. Do I have full access to hotel amenities? What is included in the price?
A. Most hotels provide our HotelsByDay guests with all available amenities. However, some hotels may have restrictions to a few night stay amenities (i.e.-free breakfast) and are subject to each individual property's choice. Please check with the front desk.
Q. What is the cancellation policy?
A. You have 2 options to book with HotelsByDay: The first option is a "non-refundable" rate which means that at the confirmation page you will be asked to provide CC details in order to book. Once booked, you cannot change the date nor cancel, nor get refunded. If you don't show up to the hotel, the hotel reserves the right to charge your card. The second option is "pay at hotel" which grants you a free cancellation up to a day prior to stay.
Q. Should I modify or cancel my booking through HotelsByDay, or directly with the hotel?
A. It is always best to modify your reservation with HotelsByDay. Our customer service line is available 24/7 at +1.855.925.2530. For cancellations, you can simply click on the "cancellation" link on your confirmation voucher.
Q. I booked a wrong date, can you change the date of my booking?
A. We ask that you cancel your reservation and book again for the correct date.  For non-refundable bookings, please call us & we will contact the hotel regarding a change of date: +1.855.925.2530.
Q. Can I book the day of? How many days in advance do I need to book?
A. Yes, you can book the same day. But please note that past 1 pm local time, hotels will close their inventory for same day booking.
Q. Will the hotel recognize the HotelsByDay reservation number?
A. Only when you show up with a copy of the confirmation. HotelsByDay booking numbers do not match the hotel's booking numbers. Since our system of booking a "day room" is new to most hotels, we ask that you do not call ahead to confirm the stay and simply show up with a copy of your confirmation (on your phone, or in print). The Front Desk will have details regarding your day reservation. Do not worry 🙂
Q. How long does it take for my deposit to be refunded?
A. Deposit charged on credit cards will usually hold no longer than 48 hours past the check out time and are not recorded on your monthly statements.
Q. Is there parking available? How much is it?
A. Details on the parking will be available on the hotel description page. Most hotels offer a discount on day stay parking versus night stay parking. Not every hotel offers parking. Please check the highlights and amenities on the description page for more information. 
Q. Is the cost per hour or for the whole period?
A. The cost of a day booking is for the entire period listed for the day. On average, a day room lasts about 4 to 6 hours of stay during the day.
Q. Can I use a prepaid debit card?
A. No. Prepaid cards are not accepted by any hotel, due to security risk. A valid ID and credit card must always be handed out at check-in of your day booking.
 Now that you're 'in the know' – go ahead & book with HotelsByDay!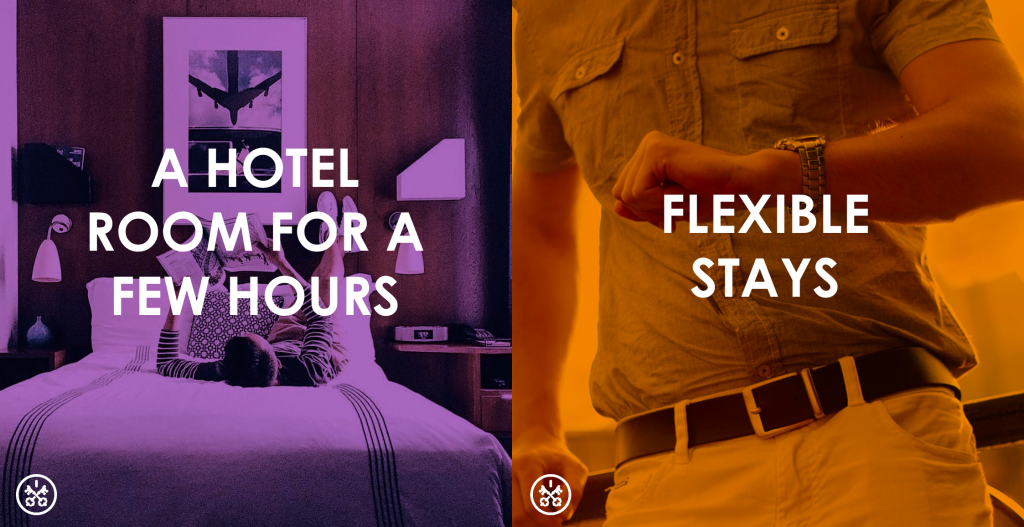 The following two tabs change content below.
Yannis has a rich background of 15 years in travel, from guiding tours in Europe at a young age, to co-founding an exotic travel agency, and then directing a New York-based global tour operator company. Throughout his professional life, for both his clients and personal travels, Yannis had to always pull strings to get a more personalized hotel check-in or check-out times. Frustration turned to illumination, witnessing first-hand the important customer behavioral shifts of the 'on-demand' economy: something could be done in boosting hotel revenues by selling uncommitted inventory by day.
Latest posts by Yannis Moati (see all)